One of the best known dance dramas by Nobel Laureate R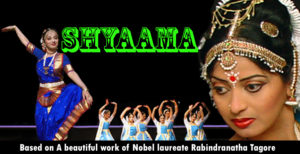 abindranath Tagore, Shyama is an intricate tale of passion and guilt, love and sacrifice, sin, forgiveness and retribution. Bajrasan, the hero, is falsely accused of stealing a priceless necklace. He is sentenced to death. Salvation comes in the form of Shyama, the most beautiful and desirable lady of the royal court, who falls passionately in love with Bajrasen.
In her desperation to save his life, she devices a dangerously selfish plan with her ardent young admirer Uttiyo, who offers to take the place of Bajrasen at the scaffold.
Shyama and Bajrasen leave the country, and are blissfully lost in each other's love. They live happily, but not ever after. At Bajrasen's insistence Shyama ultimately discloses the truth. A horrified Bajrasen is instinctively repulsed. Though, the couple separate, their love survives their individual penance. Do they reconcile despite all adversities? You need to come to see the ending for yourself.
The music for Shyama was produced and recorded under the direction of Pramita Mullick, an eminent Rabindra Sangeet Singer and a regular artiste on All India Radio and television, and Rahul Chattopadhyay, an accomplished Sitarist. A variety of traditional Indian instruments such as Sitar, Sarod, Flute, Esraj, Tabla, Pakhawaj, Ghatam, Mridangam, etc., have enriched the musical score. The dances in the drama have been choreographed in Bharatanatyam (one of the classical dance forms of India), Manipuri, Kathakali, Kuchipudi and folk style by Nandini Mandal and Hari Kishen Nair.
Shyama by Nandanik Dance Troupe, Pittsburgh.
Composition - Gurudeb Rabindranath Tagore
Dance direction- Nandini Mandal
Music Direction- Pramita Mullick
Shyama- Nandini Mandal
Bajrasen- Harikishen S. Nair
Uttiyo- Anika Sinha
Kotaal- Kumudini Venkata
Bondhu- Nivedha Suresh
Sakhis- Ashwini Walavalkar Aditi Srivastava, Hiral Shah, Mythri Sundar, Surili Patani
Sentries and village ladies- Nivedha Suresh, Anoushka Sinha, Sonali Sheth