Folk Tales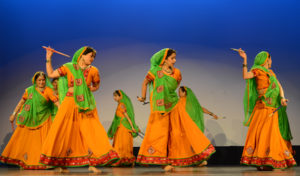 Chando she, Shyamdo?
This story is about human yearning- 'het'.
Bhairav, a spirit falls in love with a girl on earth. After convincing the spirit God he is granted human form with a condition that if he cannot yearn true human love, he would be suspended in the spirit world forever. . . .
 Bhairav meets Ratan in her village at the colorful and joyful dance event- Garbo. And falls in love with him.
The dance we are performing is that 'garbo', where 'souls meet'.
They marry. Ratan gives birth to a non-human form, which confirms many villagers doubt about Bhairav not being a human, but spirit. Ratan's father asks Ratan in presence of the priest to confess that Bhairav is a spirit, but Ratan instead confesses of her indulgence with another young male; which breaches Bhairav's promise to his god and so now he has to return to the spirit world.
Bahirav, leaves the earth saying, 'I lost to the condition, but I did not lose 'love', for your love, Ratan is true and so is mine. . .
St. Louis's folk dance team lead by Prof. Neelima Bhavasar presents many facets of life through folk dances. She has chosen three distinctive folk styles tellthe story lines. As in any folk dances – movements are simple and energetic, yet the songs tell stories of valor and legends. Sometime these stories are the reflection of philosophical thoughts. One such story has been chosen based on a play by veteran Gujarati playwright Pannalal Patel, which narrates the story and dance based on a theme called  'chando se shaymdo?' - 'चांदो शें साम्डो?'. This is a about 'human yearning'- हेत -   The story will be presented, with introduction dialogues, dance, live singing, and small act.
They also present some short stories through Bhangra – where the son will tell the love stories of commoners. This team performs very quick exciting dances with a group of more than 40 artists.