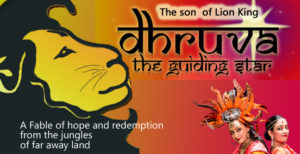 Dhruva - is the Indian way of narrating the story of famous - "Lion King"
The story line is modified for India theme. This is done by Guru Chitra.
Smt. Chitra Ramaswamy was introduced to classical dance at the age of nine in the Kalakshetra style under the able guidance of her Guru Padmashree Adyar. K. Laksmanan of Chennai. Her guru is one of the foremost disciples of the legendary dance school, Kalakshetra, 
Chitra is a very graceful and dedicated dancer who has the ability of portraying the character she plays with ardent devotion and grace. Her facial expressions coordinated with her intricate footwork and hand movements bring to life the character she  portrays. Chitra has performed in almost all Sabhas of Chennai including the prestigious  "The Music Academy". She has toured various places in India and USA for performances including Solo and dance dramas.
Chitra is currently the artistic director of "Sanskriti School Of Dance" based at NJ. The school offers programs in Bharathanatyam with the aim of spreading the richness and grandeur of this art form and yet retaining its pureness and tradition. She has been inculcating this precious art form to various young students as devotedly and diligently as her Gurus.
Chitra works diligently with her students bringing the best in them and above all inculcates great values.She has conducted several Arangetrams and choreographed many dance productions. 
A graduate in computer engineering, Chitra is currently a software professional with patents to her credit.She lives in South Brunswick with her loving husband Babu Krishnan and two beautiful children Ashwath and Adhvika.