Rama Eshwara - Story of Raavana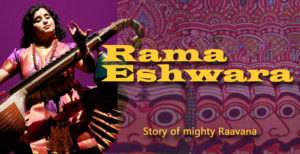 The dance drama begins with lord Shiva telling the story of his greatest devotee "Raavana".
Ravana who is the son of sage Vaishrava and demon princess Kaikeshi, who is a great scholar, a capable ruler, a maestro of the arts, political science and all the Vedas, but is also the one who wished to overpower the devas (Gods).
Ravana, a devotee of Lord Shiva, is depicted and described as a great scholar, a capable ruler and a maestro of the veena (plucked stringed instrument). He is also described as extremely powerful and has ten heads. His paramount ambition was to overpower and dominate the devas. His ten heads represent his knowl
edge of the six shastras and the four Vedas. Education and knowledge has limited effect if the mind is corrupted with negative thoughts. This is a tragic story of Raavana. He started fulfilling his selfish needs like lust, anger, delusion, greed, pride, envy, ego against morality and made the world suffer.
To save the world, lord Vishnu and goddess Lakshmi took avatar (incarnation) as Rama and Sita. The dance drama then moves on to present Ramayana story showcasing Rama and Sita's wedding, Shurpanakha's insult, golden deer hunt, Sita's abduction, Jatayu moksham, Hanuman joining Rama and finally the dance drama culminates with ten headed Raavana's death at the hands of Rama.
CAST & Crew
Dance drama concept, visualization, choreography: Guru Vidushi Asha Adiga Acharya
Asha Adiga Acharya – As Ravana
Srinivasa Acharya – As Lord Siva
Egle Kritopulos – As Rama
Khristi Blocton – As Shurpanaka , Hanuman ,God Ganesha, Parvathi
Megha Singh -As Sumali (Ravana's Grandfather), Deer, Ravana's army ,Kousalya.
Madhavilatha Gali – As Kaikeshi, Sita and Rama Army.
Sharmila Chelladurai– As Jatayu ,King in the Swayamvara and Ravana's army
Kousalya Velagapudi – Lakshmana.
Apurva Reddy – Sage Vaishrava, Ravana's army.
Indira Reddy : Janaka , Dasharatha , Marich and Vibhishana
Adithi Acharya Small Ravana
Abhirama Acharya : Small Rama
Other performers: Jyothika Papudesu, Shreya Mukunthan ,Ananya Nagareshwara, Ananya Saraswati, Apurva Reddy, Harshitha Vetrivel, Shreeya Yampati, Adithi Acharya, Madhumitha Papudesu, Achala Nagareshwara, Sharanya Yampati, Sadhana Vetrivel and Abhirama Acharya.
Stage techs : Bharathesh Nagareshwara , Chandra Papusedu and Archana Prabhachandra.