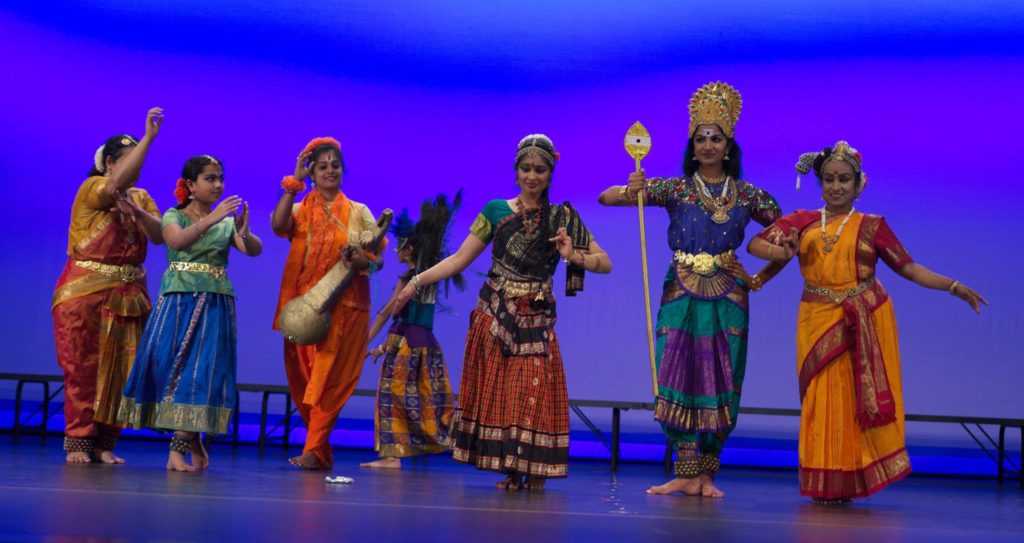 CAST & CREW
Concept & Choreography:
Sudha Chandrasekhar
Lord Shiva: Malini Sarma
Goddess Parvathi: Anandini Sekhar
Baby Murugan : Tarini Srinivasan
Ganesha: Divya Narayan
Young Karthikeya: Ananya Pandy
Mayura: Arodyuti Dutta
Narada: Asita Dutta
Rati: Charanya Rengarajan
Manmatha: Sumanjali Reddy
Avvaiyyar: Vidya Chandrasekhar
Cowherd Murugan: Vishwa Srinivasan
Shurapadman: Hari Sarma
Deivayanai: Aarrthy Arunachalam
Indra: Ananda Pandy
Lord Brahma: Chitra Narayan
Valli: Ashwati Chennat
Lord Murugan: Charanya Rengarajan
Krithika Maidens :
Eswari Pandy, Ashwaty Chennat, Aarrthy Arunachalam,
Charanya Rengarajan, Chitra Narayan, and
Sumanjali Reddy
Dialogues: Sudha Chandrasekhar &Gopal Venkatraman
Audio/ Video : Vasanthi Rengarajan, Sheela Reddy, and Ananda Pandy
Aru Padai Veedu: The Six Holy Abodes
Palani, Swamimalai, Pazhamudircholai, Tiruchendur, Tiruparamkundram, Tiruttani.
STORY LINE
This play begins with humble obeisance's to Lord Ganesha and moves on to portray the stories behind the Six Abodes of Lord Murugan. It begins with the Story of His Birth, through the third eye of Lord Shiva, after the Devas strategically send Manmatha to shoot his darts of love at Lord Siva in meditation, while Parvathi worships him, resulting in His appearing as six babies, in six lotuses in the Lake Saravana Poigai, His being nurtured, and brought up by the celestial six Kartikai maidens, and finally Parvathi coming to lovingly take Him, when He assumes six faces with twelve arms and becomes known as Karthikeya.
Palani - In the next story we depict the story of Pazhani Andavar. The story of Narada
bringing a fruit to the Shiva family, will be shown here.
Swamimalai - Here we see Lord Brahma being chastised and put in prison for not knowing the real the meaning of 'OM'. Lord Shiva asks for His release, and asks Murugan if He knows the truth. Murugan discloses His knowledge to His amazed father on after Lord Shiva bends as a student and humbles Himself. When receiving knowledge there should be no Ego.
Pazhamudircholai - Lord Murugan is pleased with His ardent devotee Avvai, who spend her life preaching about her Lord Murugan, educates herself in the Tail literature, and through her writings and poems has become known all over the world. He decides to test her knowledge as a young cowherd. The famous ho rot cold fruit episode is briefly touched upon. Muruga reveals Himself and asks her relevant questions to which Avvai answers brilliantly. Finally she surrenders to his feet and says all knowledge is in vain if one does not realize it all comes from the Omnipresent Lord Himself.
Tiruchendur - Here we see Lord Muruga depicted as the deputized Commander in Chief of the Gods, who fights demons and defeats.
Tiruparamkundram - Lord Indra gives his daughter Devasena in marriage to Murugan. A high spirited Kavadi dance follows in celebration.
Tiruthanni - After that, Muruga decides to go to Tiruttani for some respite. Valli, daughter of tribesman , is in love with Muruga,. Muruga tests her love by attracting her in the disguise of a handsome bangle seller, then as a hunter looking , then as a rich old man trying to marry her. Valli declines al of them. At one point, when an elephant chases her, she will be rescued by the old man, only when she agreed to marry hi, Valli had to keep her promise of marrying the old man, despite her heart with Muruga. But, when Muruga shows up himself, from his old-man disguise, she is very happy.